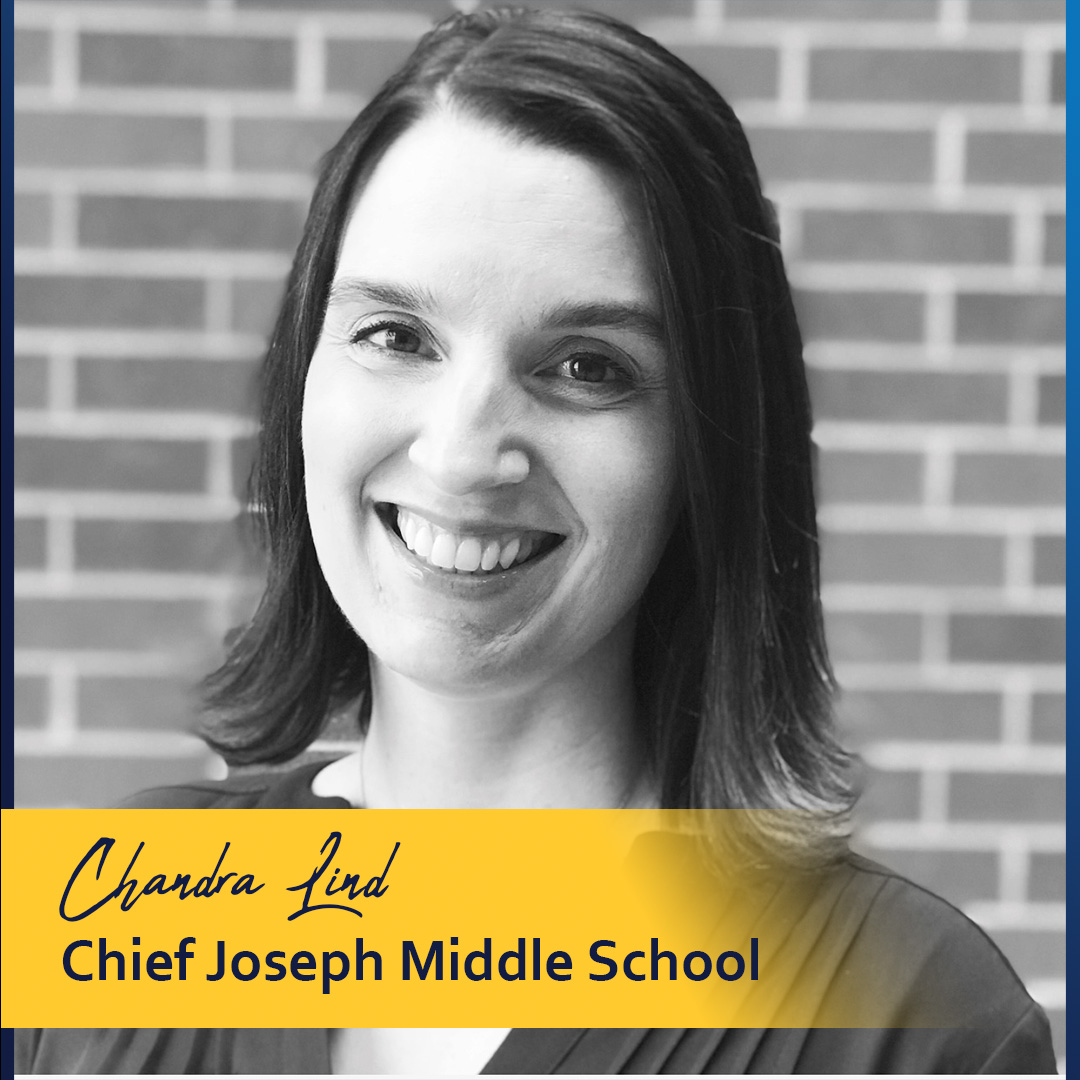 Chandra Lind
Middle School Orchestra Teacher
Chief Joseph Middle School, Bozeman, MT
"If you watch your favorite movie without its soundtrack, you quickly realize how empty and unfulfilling life would be without music. Music in our schools carries the same import: music education brings an energy to the school day that supports kids emotionally, socially and academically. I love that I get to teach right to the heart of a student; they know they are cared for, that they are important and that they belong."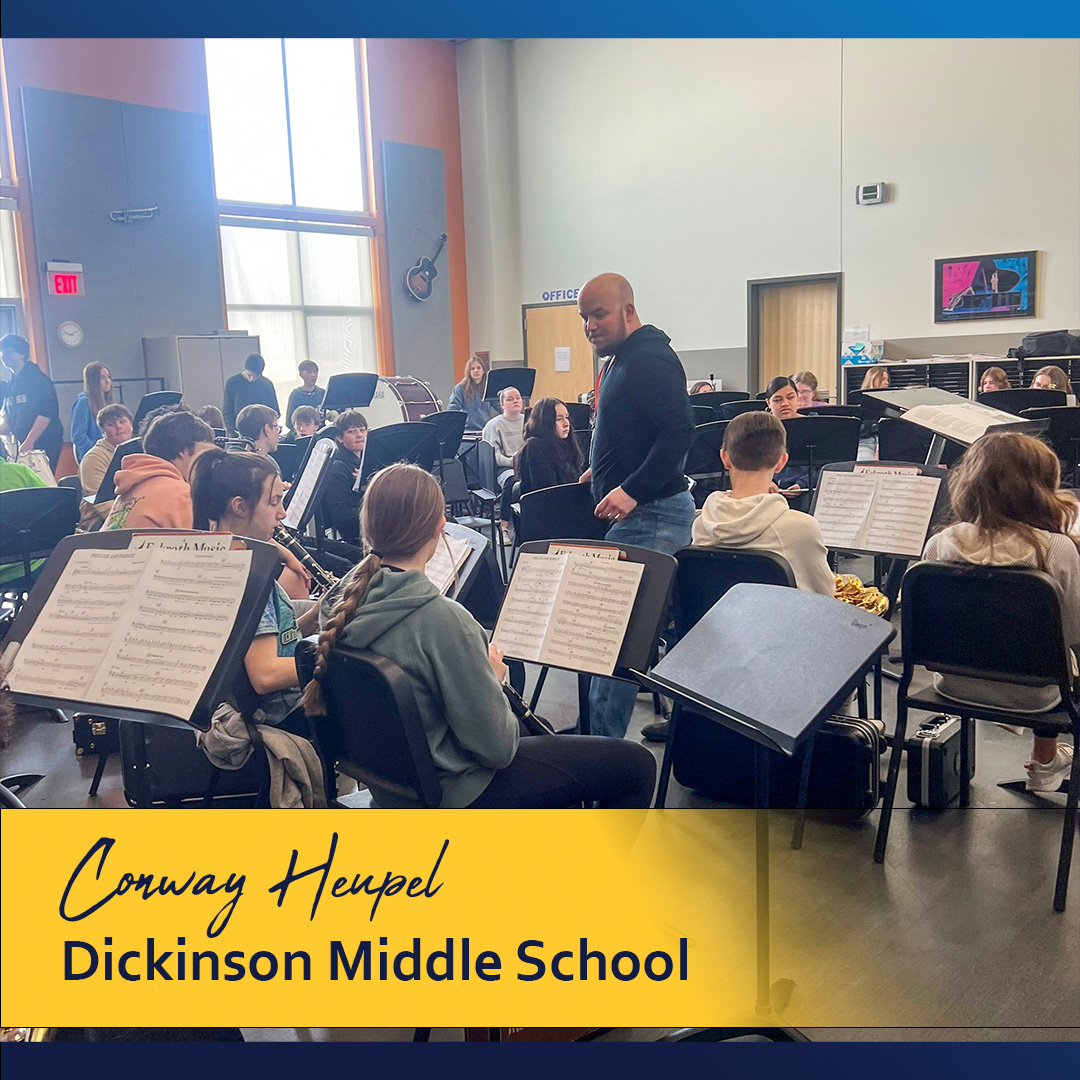 Conway Heupel
Middle School Band
Dickinson Middle School, Dickinson, ND
Conway Heupel started teaching at Dickinson Middle School in 2022, after 12 years of teaching in New England, ND. He brings with him a background in brass, great sense of humor, and the iron will it takes to teach middle school band. Through his teaching, he sees his students rise to expectations, improve their efficiency, and enjoy playing their instruments.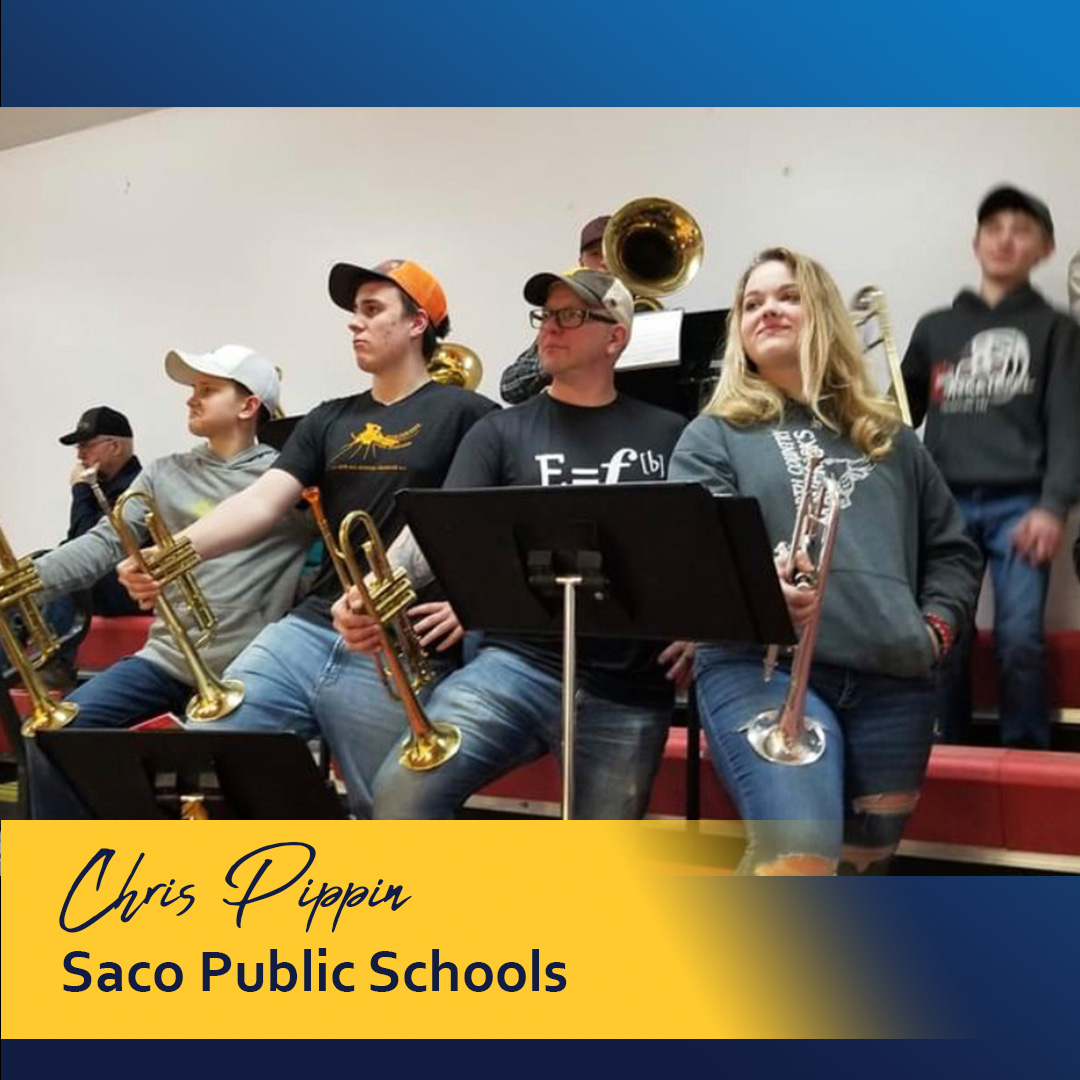 Chris Pippin
Music Teacher
Saco Public Schools, MT
"The Saco music program is not just my job, it is my passion! The goal of my program is to make more compassionate, complete individuals, and the vehicle I use is music."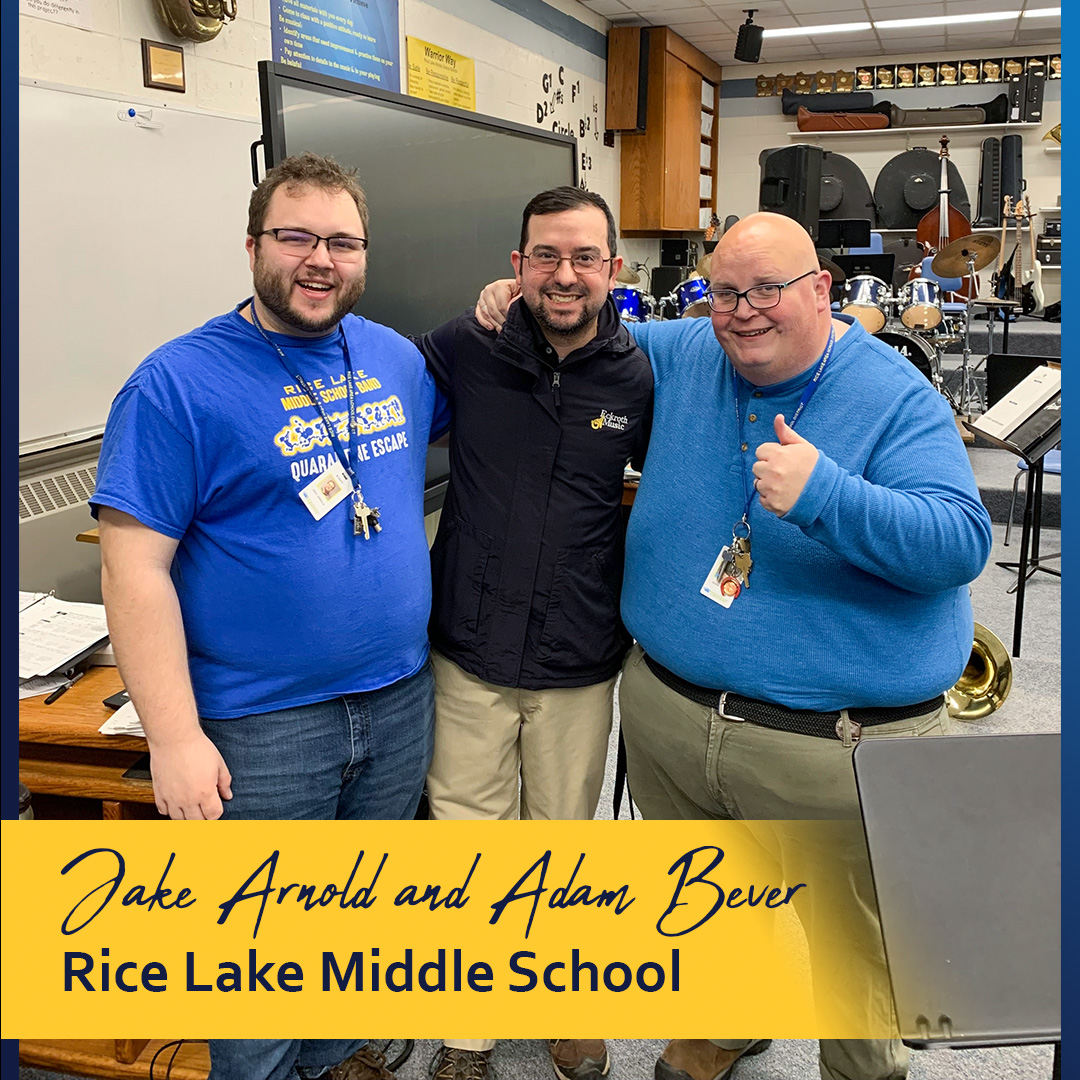 Jake Arnold and Adam Bever
Band
Rice Lake Middle School, WI
"When I think about our band program, I think of the connections that are made. Lifelong friendships are made as students work together in our band program. It's inspiring to see our students push each other to become better musicians every day." - Jake Arnold
"At Rice Lake Middle School, we put an emphasis on creativity and passion. Music is a form of expression, and today's students need that outlet more than ever. Music allows students to work hard to attain a goal while getting and having support from their good friends." - Adam Bever

Photo: Jake Arnold and Adam Bever with Eckroth Music Eau Claire Manager and School Representative Benjamin Fraley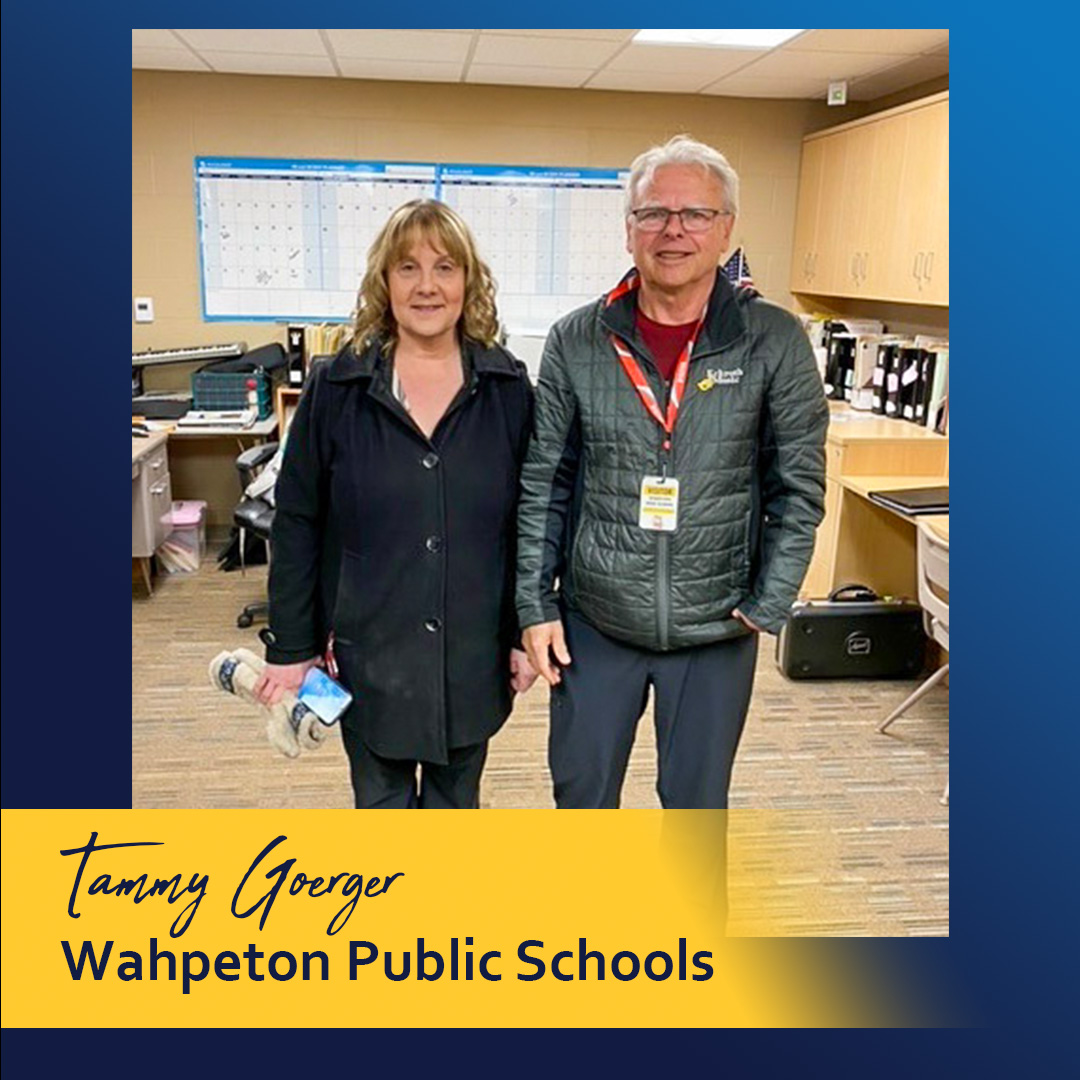 Tammy Goerger
Wahpeton Public Schools, ND
""Tammy is an outstanding teacher and role model. She is very involved in mentoring her band students and other non-music students through her Leadership class." - EMC School Service Rep Stener Anderson

Tammy has taught band and choir, as well as performed with a variety of musical groups from orchestras to the Moody Blues. In recent social media posts, she demonstrates the value of versatility by giving examples of her musical experiences outside of band, and reminding everyone that each person is more than their title!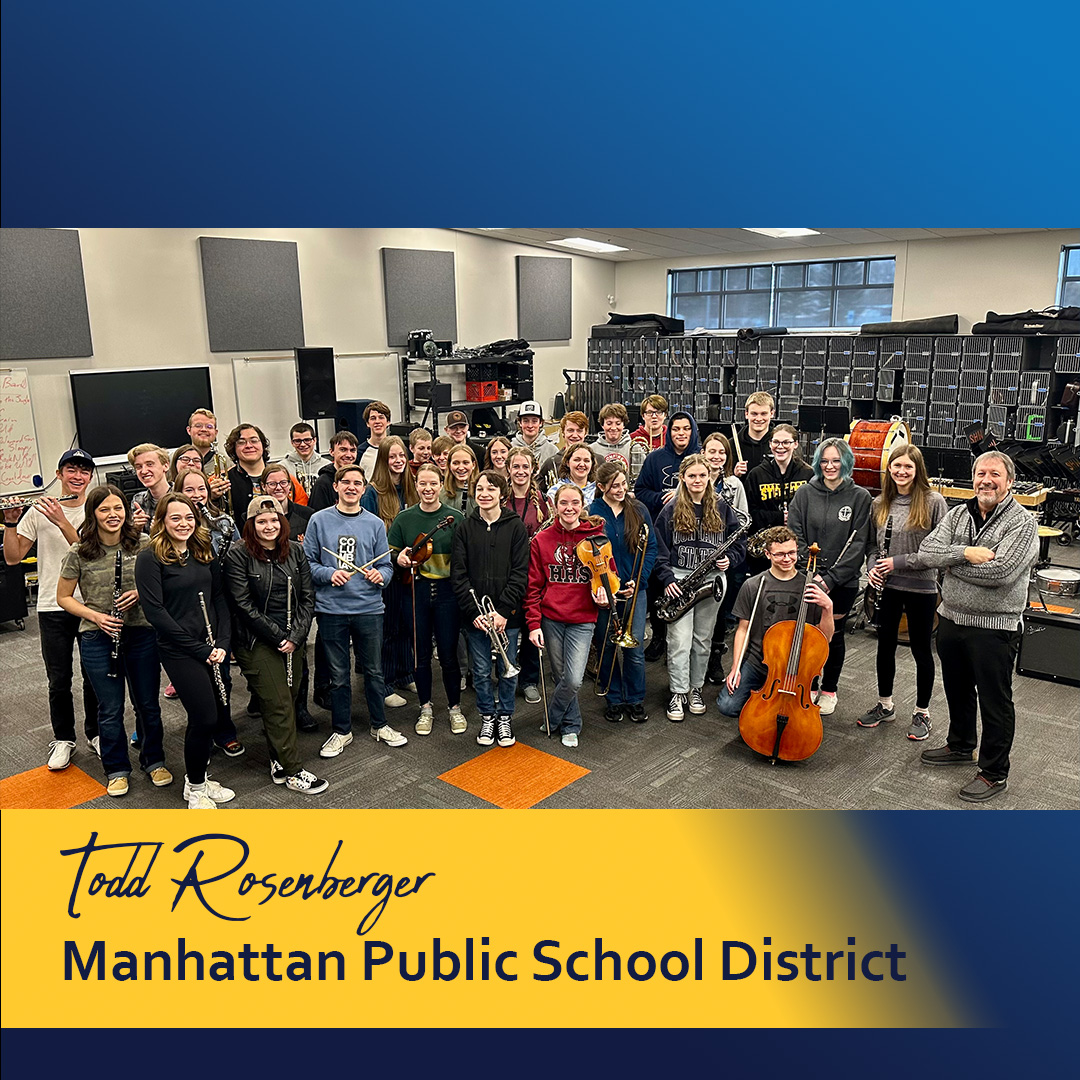 Todd Rosenberger
Manhattan Public School District, MT
Todd Rosenberger provides a variety of musical experiences to his students in the Manhattan Public Schools in Montana:

"I have been teaching for over forty years from elementary to the collegiate level. This is my current A-Team, The Manhattan Concert Band. I currently conduct seven bands, teach beginning through advanced guitar, and head a music technology program. Eckroth Music goes above and beyond to take care of all of us with supplies, service, repairs, and instruments. We couldn't be "us" without all the support Eckroth Music provides!"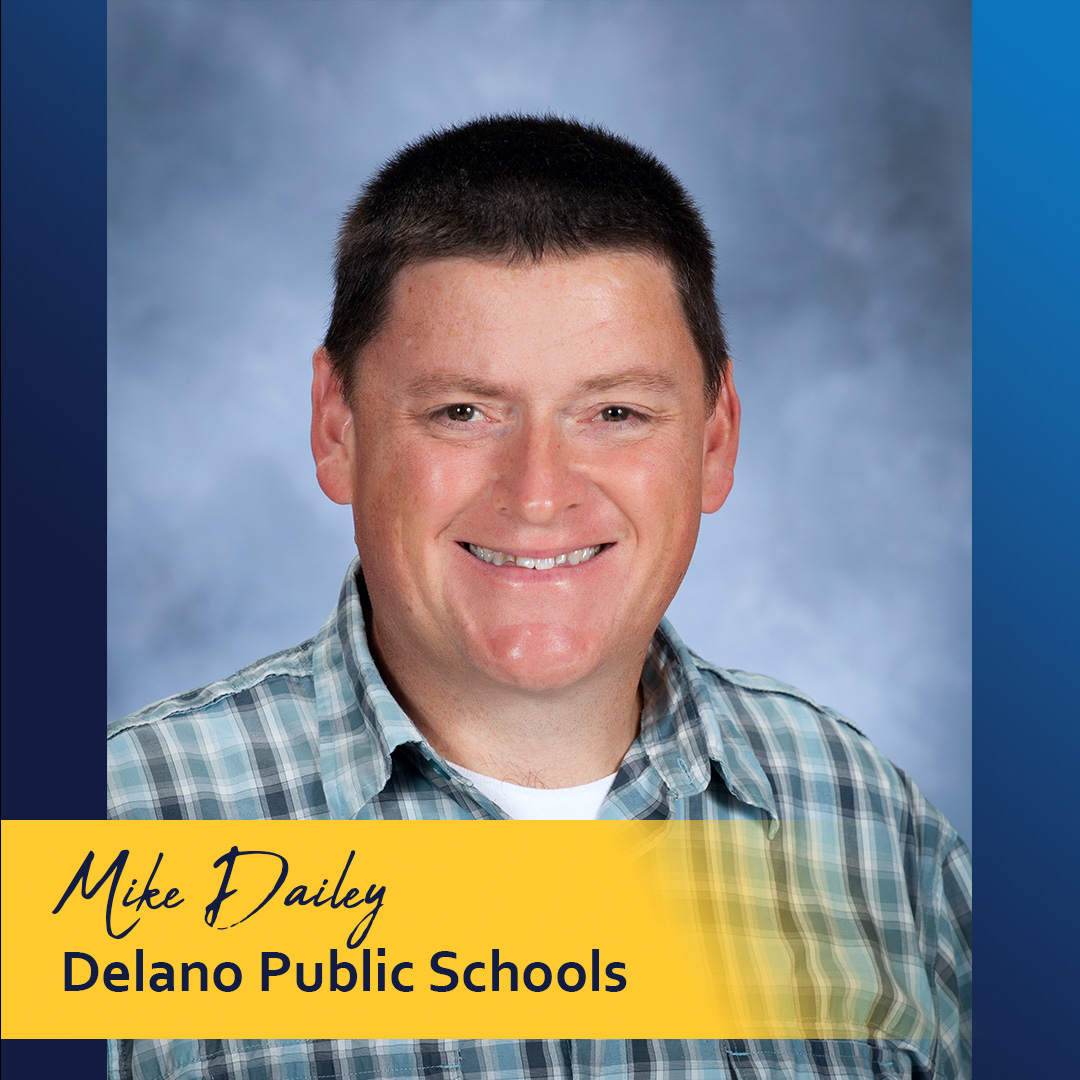 Mike Dailey
Band/Jazz
Delano Intermediate and High Schools, MN
I teach the 5th and 6th grade bands at Delano Intermediate School. I also teach three jazz bands at Delano High School. Jazz 3 is grades 6-8, Jazz 2 is 9-12 and Jazz 1 is 10-12. I truly enjoy working with students at all grade levels. The aspect of my job I get the most satisfaction from is seeing the pride students have when they achieve their goals. It could be as small as learning a difficult section in their music or as big as a concert performance. The joy for me in teaching music is knowing the students are excited and proud to be a part of the band and that they are having fun! For the past year, I have also been directing the Delano Community Band, and it has been wonderful to have former students join the band and continue playing their instrument. My current students enjoy coming to the community band concerts, and it is great for them to see that music is truly a lifelong endeavor.