Rush Creek Golf Club
Total Band Director Workshop
July 28 & 29, 2021
SCHEDULE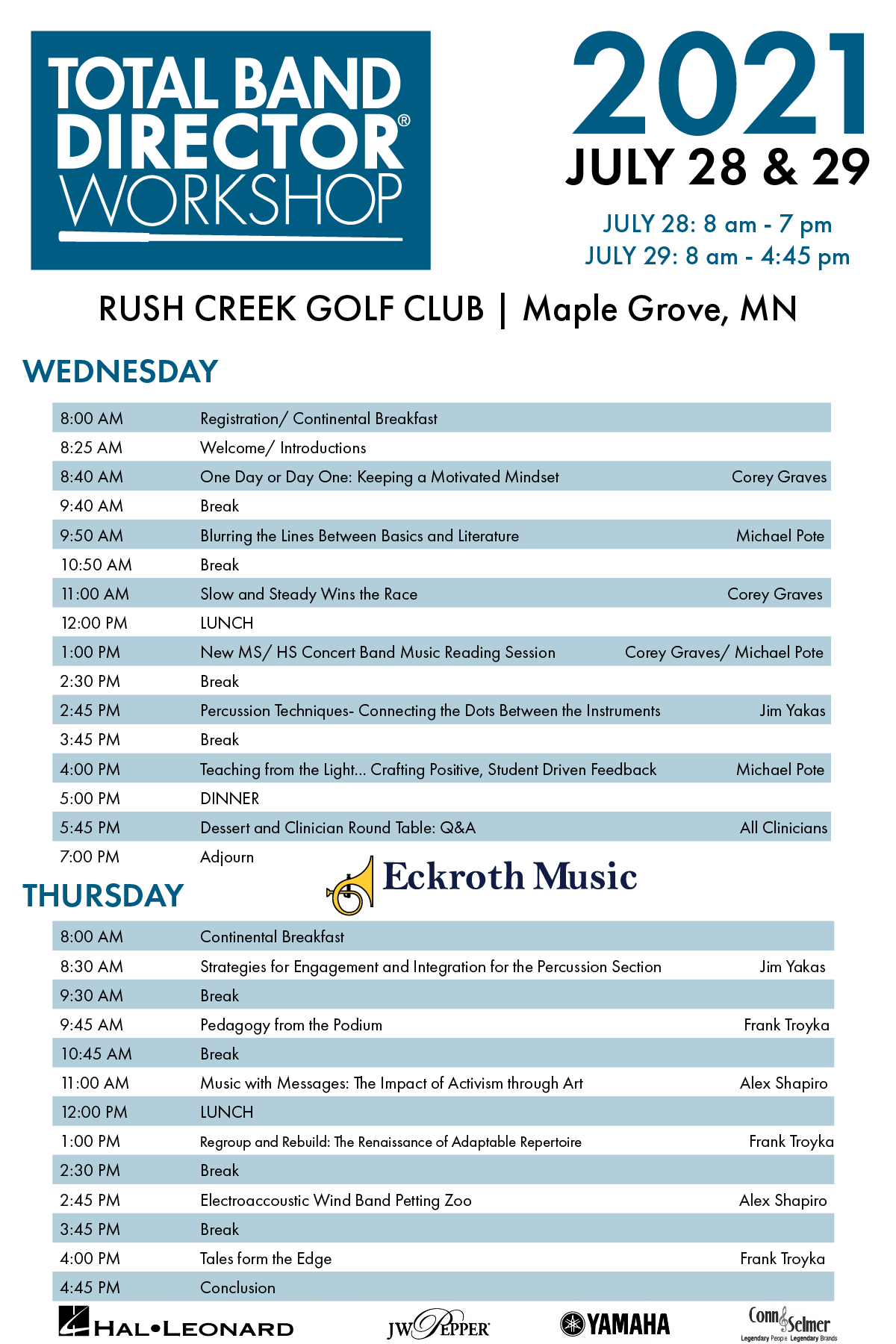 About Total Band Director Workshop
Eckroth Music, in conjunction with Hal Leonard, JW Pepper, Yamaha, and Conn-Selmer is proud to present the TOTAL BAND DIRECTOR WORKSHOP on July 28 & 29, 2021 at Rush Creek Golf Club. After the two-day workshop, directors will go home with new tools, materials, and music – not to mention a renewed excitement for teaching band! At the workshop you will learn creative, unique, and innovative ideas, discover great new music, material and tools for band, network with fellow teachers, as well as clinicians and staff, and have a lot of FUN.
Frequently Asked Questions
Where is the workshop location?
Rush Creek Golf Club in Maple Grove, MN. The address is 7801 County Road 101 in Maple Grove.
Do we need to bring our instrument?
Yes! Everyone participates in the Reading Band sessions. No instrument available? That's OK. Eckroth Music will provide one; email

[email protected]

Percussion is on-site.
What should I wear?
Business Casual attire is appropriate for the workshop. The workshop is held indoors; sometimes a sweater/jacket is nice to have along in case the air conditioning is working really well that day.
What is the schedule?
Registration/Continental Breakfast begins at 8:00 am on Wednesday, July 28. Welcome and introductions start at 8:25 am. On Wednesday evening, the Dessert and Clinician Round Table Q&R will finish at 7:00 pm. On Thursday, July 29, breakfast is served at 8:00 am and the first keynote speaker starts at 8:30 am. Thursday's sessions conclude at 4:45 pm.
Meals
Your registration fee includes Continental Breakfast and Lunch both days. In addition, there is a social hour and dinner on Wednesday evening also included with the registration fee.
Are there Continuing Education Credits available (GWC)?
Yes, please go to https://continuinged.umary.edu/courses/director-workshop to enroll.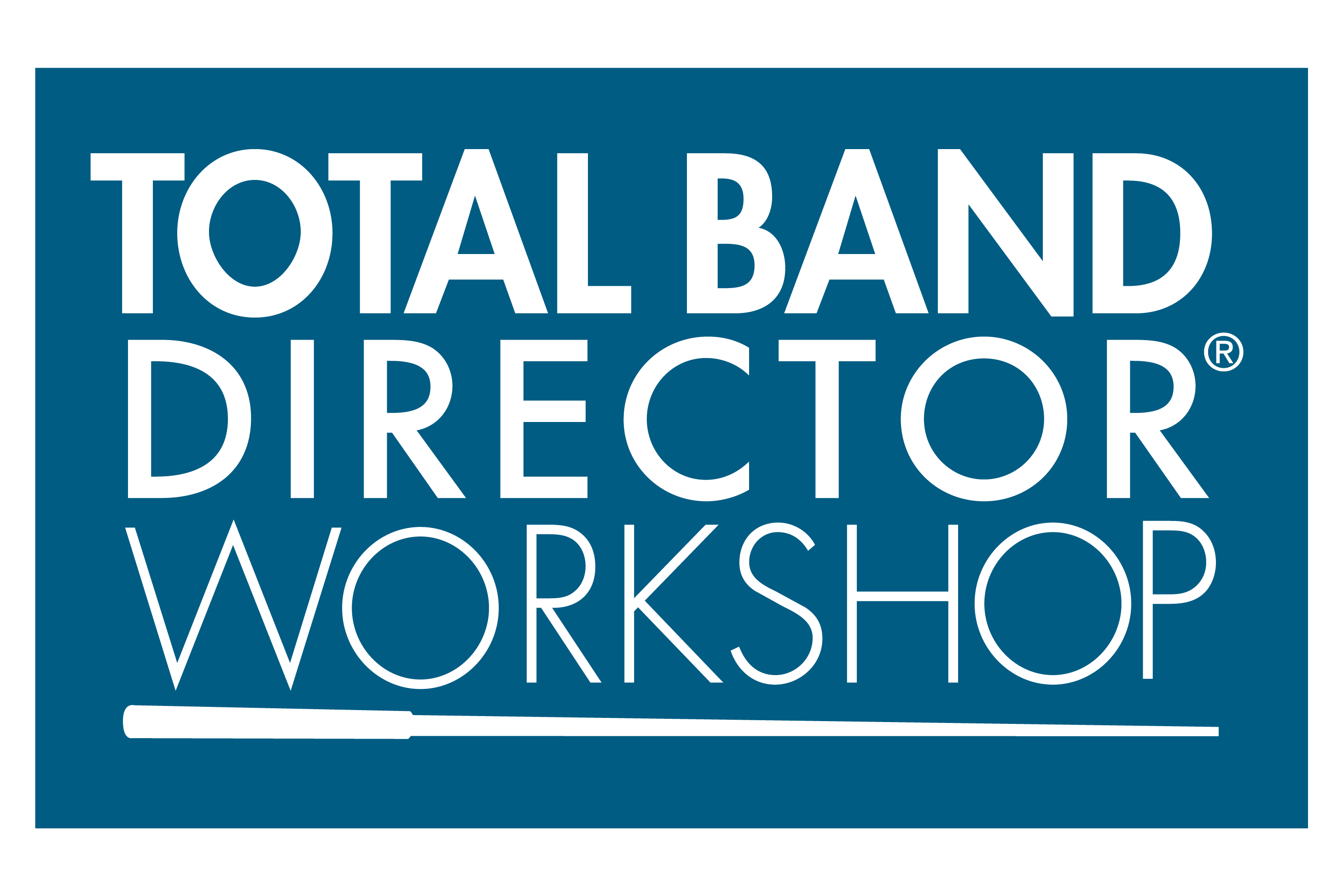 Alex Shapiro
About Alex
Alex Shapiro (b. New York City, 1962) aligns note after note with the hope that at least a few of them will actually sound good next to each other. Her persistence at this activity, as well as non-fiction music writing, public speaking, arts advocacy volunteerism, wildlife photography, and the shameless instigation of insufferable puns on Facebook, has led to a happy life. Drawing from a broad musical palette that giddily ignores genre, Alex's acoustic and electroacoustic works for small chamber groups and large ensembles are published by Activist Music LLC, performed and broadcast daily, and can be found on over thirty commercial releases from record labels around the world. Shapiro is known for her seamless melding of live and recorded sounds that often include striking visual and physical elements, and for her innovative uses of technology throughout the composing, rehearsing, and performance of her music. Ms. Shapiro is the Symphonic & Concert writer member on the Board of Directors of ASCAP, and a board member of the ASCAP Foundation. She also serves as a board member of The Aaron Copland Fund for Music, and is a former board member of other U.S. non-profit organizations including The American Music Center, the American Composers Forum of Los Angeles, The MacDowell Colony, and The Society of Composers & Lyricists. Educated at The Juilliard School and Manhattan School of Music as a student of Ursula Mamlok and John Corigliano, Shapiro moved from Manhattan to Los Angeles in 1983, beginning her career composing for commercial media before switching her focus to the concert music world in the late 90s. In 2007 Alex traded the traffic and wildfires of Malibu for the puddle jumpers and wildlife of Washington State's remote San Juan Island. From her home on the water's edge, Alex procrastinates on her next piece by pointing her camera at anything with paws, claws, hooves, tentacles or fins. The resulting, award-winning photos are increasingly part of Shapiro's multimedia electroacoustic works and her website, where just as on her blog, www.notesfromthekelp.com, and Facebook page, www.facebook.com/AlexShapiro, Alex's music and images can be experienced separately, and together.
Corey Graves
About Corey
Corey LaMon Graves is in his thirteenth year of teaching and has been with the Roma Independent School District since 2010. Prior to coming to Roma Middle School, he taught two years with La Joya ISD. His teaching responsibilities include conducting the Roma Middle School Symphonic Winds, teaching beginner euphonium and low reeds for the district, and assisting with the Symphonic Band. Mr. Graves received his Bachelor of Music Education degree as a summa cum laude graduate from Stephen F. Austin State University (SFASU) in 2007. Mr. Graves earned a Master of Music in Euphonium Performance from The Ohio State University (OSU) as a graduate fellow in 2008. Mr. Graves is a Bill and Melinda Gates Millennium Scholar and the Region XV Middle School Coordinator. Bands under his direction have consistently received superior sweepstakes ratings at UIL Concert and Sightreading Contest, and have also earned high levels of recognition at both the state and national stage, being recognized as a National and Commended Winner in The Foundation for Music Education National Wind Band contest from 2013-2019. The RMS Symphonic Winds have been consistent state finalists in the Texas Music Educators Association Honor Band Competition, being recently honored as the 2020 TMEA CC Honor Band.The RMS Symphonic Winds were also invited to perform at the 70th Annual Midwest International Band and Orchestra Clinic in Chicago, Illinois. The RMS band program is a 2019 recipient of the John Philip Sousa Foundation Sudler Silver Cup Award and named a Rio Grande Valley Program of Distinction. Mr. Graves was chosen as Roma ISD's 2013 Secondary Teacher of the Year and named the Phi Beta Mu Texas Young Bandmaster of the Year in 2017. He is an active clinician, adjudicator, guest euphoniumist, and maintains professional affiliations with Texas Music Educators Association, Texas Bandmasters Association, Texas Music Adjudicators Association, the UIL Prescribed Music List Committee, and Pi Kappa Lambda National Music Honor Society. Mr. Graves credits his passion for music to his mother, Brenda M. Moore (who is affectionately known as "Mama Graves" by his students), his drive for success to his grandmother, Mrs. Vergie Graves, and his love of education to an incredible list of music educators across the country.
Frank Troyka
About Frank
Frank Troyka is the retired Director of Bands and Coordinator of Fine Arts at Berkner High School in Richardson, Texas. A teacher of over 30 years, Frank came to Berkner in May of 2006 following seven years as Director of Bands at Cypress Falls High School in Houston. Ensembles under his direction have been selected to perform at the Music For All National Festival; the Percussive Arts Society International Convention; and at the Midwest Clinic on two occasions with the Symphonic Band at Cypress Falls in 2004 and with the Berkner Symphonic Band in 2011. In addition, Berkner High School Symphonic Band I was named Runner Up on two consecutive occasions in TMEA Honor Band competition. Frank is an active clinician, presenting workshops across Texas, throughout the United States, and at international destinations including Canada, The Philippines, Singapore, China, Switzerland, and South Africa. He is a frequent presenter at faculty development workshops for public school music teachers as well as a guest lecturer and "hands-on" instructor for both students and teachers. Frank is a member of the Texas Music Educators Association, the Texas Bandmasters Association, and Phi Beta Mu International Bandmaster Fraternity. He is an Educational Consultant with Conn-Selmer, Inc.; the Director of Education for System Blue, the educational arm of the Blue Devils Drum and Bugle Corps of Concord, California; and the coordinator of the Generation Next series of presentations for The Midwest Clinic. He was honored as the 2002-2003 Teacher of the Year at Cypress Falls High School and, while at Berkner High School, was one of fifteen recipients in the state of Texas of the 2010 UIL Sponsor Excellence Award. In 2014, Frank was honored by the Texas Bandmasters Association as a recipient of the Meritorious Achievement Award. In March of 2016, Frank was inducted into the Bands of America Hall of Fame. In 2017, he joined the faculty of the Meadows School of the Arts at Southern Methodist University in Dallas as Adjunct Associate Professor of Music Education where he teaches both undergraduate and graduate level courses. He is also adjunct faculty at Oklahoma State University and at Sam Houston State University where he mentors student teachers. Most recently, Mr. Troyka was named 2019 Bandmaster of the Year by the Texas Bandmasters Association.
Michael Pote
About Mike
Michael Pote was named Director of Bands at Carmel High School (Carmel, IN) in 2013 after spending 20 years serving as Associate Director of Bands. The band program at Carmel High School serves nearly 600 students with 7 concert bands, 6 jazz ensembles, marching band, chamber ensembles, private lesson program, percussion ensembles and 3 winter color guards. Carmel High School's Wind Symphony 1 performed at the 2005 Midwest Band and Orchestra clinic, the 2020 North Central Division CBDNA Conference, numerous state conference performances and clinics and has been a 4-time participant in the Music For All National Concert Band Festival. Wind Symphony 1 was also named the 1999, 2013, 2015, 2017, 2018 and 2019 Indiana State School Music Association Concert Band Champions. The marching band at Carmel High School has been a Bands of America National Finalist 24 consecutive years dating back to 1996 and were the ISSMA State Champions in 1990, 2001, 2002, 2012 and 2018. CHS is a 23-time Bands of America Regional Champion and were named the Bands of America Grand National Champions in 2005, 2012, 2016, 2017 and 2018. The Carmel band program recently received the National Band Association Program of Excellence Blue Ribbon Award as well as being a two-time recipient of the prestigious Sudler Shield. A clinician for the Yamaha Master Educator program, Michael has presented clinics across the country including the Midwest Band and Orchestra Clinic, The Texas Music Educators Association Convention, the Boston Brass Summer Winds Seminar and the Arizona Music Educators Association. Michael is a member of the American Bandmasters Association and in 2019 was awarded Phi Beta Mu Indiana Chapter Band Master of the Year Award. His two rehearsal exercise books, "Process" and "Ensemble" are available through Fannin Music Productions.
James Yakas
About Jim
Director of Percussion Studies Dr. James Yakas joined VanderCook in 2015, and since has completed a Doctorate of Musical Arts in percussion performance from the University of North Texas, where he also earned his bachelor's degree in music education. After earning his master's degree in percussion performance and pedagogy from Northern Illinois University, Yakas spent 12 summers in the Madison Scouts Drum and Bugle Corps, eventually becoming their percussion coordinator and arranger in 2003. Yakas has performed at festivals in Trinidad/Tobago and Seoul, South Korea. He studied Afro-Cuban drumming with Orlando Cotto, and accompanied ethnomusicologist Dr. Steven Friedson for tribal drumming studies in Ghana. Yakas is a member of the Percussive Arts Society Education Committee, as well as the vice president of the Illinois Chapter of PAS. He endorses Yamaha Percussion, Vic Firth Sticks and Mallets, Remo Drumheads and World Percussion Instruments, and Sabian Cymbals.